Christmas Gifts for Parents From Students – 7 Handmade Gift Ideas
As the holiday season approaches, Christmas gifts for parents from students becomes a topic in schools. Teachers are already looking for the perfect student made Christmas gift for their parents. It is the happiest time of the year, and the students are excited to make something special for their parents.
So, in this article, I want to share with you some of my favorite student Christmas gifts for parents. If you're an educator, enjoy our list of Christmas gifts for students from teacher for some fun ideas.
7 Handmade Christmas Gifts for Parents from Student
Even though these gifts don't have a price tag, every child always looks happy and makes them with all their love into their Christmas gifts. Here are some handmade gifts that your students are sure to love!
Christmas Stained Glass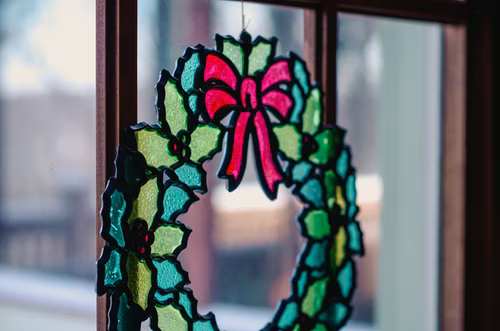 Stained glass is indeed very pretty. But even so, making stained glass gifts can be a very long and difficult process to complete in the classroom. One of my favorite stained glass gifts is a stained glass Christmas tree. You can also create a "stained glass" effect using foil and paint. You can tell your students to put these in photo frames and make Christmas decorations more interesting in their homes.
Apart from being a Christmas gift, this stained glass can also be made into a winter craft. You can make them into snowflakes or snowmen! So, you can make gifts for all students' parents for Christmas celebrations or other important holidays.
Christmas Tiles
Christmas tiles are my favorite Christmas gift that I make with my growth minded students. There are so many choices of ways to make these Christmas tiles. Some use fingerprints, handprints, footprints, and many more!
Hollie Griffith came up with an idea for this Christmas tile using photos. If you want to use photos of your students but you can't take a picture of your students, you can use their school photos. Because normally, schools have one copy of each student's photo for their records. You can ask your school administrator if you can request the photo, or they can provide the photo!
Reindeer Thumbprint Ornaments
Some of the most memorable things during childhood are thumbprints, fingerprints, and footprints. This reindeer ornament made of thumbprints is very memorable and great fun for the kids.
There are so many colorful ornaments in some stores that you can give your students choices and variations to make the perfect ornament for their family. I like to use red or green to make this craft, then add a Christmas ribbon. You just need paint and a sharpie to make this cute craft and place them on the Christmas tree.
Reindeer Handprint Ornaments
In addition to the reindeer thumbprint ornament, you can also make this reindeer handprint ornament if you do not want to travel out and shop for some ornaments. It only takes a little paint, a laminator, some cute googly eyes, and a red pom nose to create a cute face to make this ornament. They are excited to make these because they can see the growth of their hands when they put the ornaments on every Christmas.
Snowman Handprint Ornaments
Many parents like this snowman handprint ornament that was created by Mrs. Terhune. You will need some ornaments to make this snowman handprint ornament. I recommend you to use clear or blue ornaments. If you are using clear ornaments, you'll use some fluff or styrofoam balls and fill them like snowmen!
The students used their handprints and created a snowmen family at the bottom of the ornament. Each student gives their snowman a different personality and accessories that they or their parents enjoy and like. I've seen my students draw pictures of baseball players, Santa Claus, and more!
Snowman Handprint Canvas
Learning and Exploring Through Play sparks a craft for a cute, non-specific Christmas decoration or gift that's great for parents, namely Snowman Handprint Canvas. You can make it using canvas, some paint students, and a marker which are certainly easy to get at various craft shops at affordable prices. Each student can create a beautiful and fun family of snowmen!
Snow Globe Gift
Snow Globe Gift is a beautiful and perfect non-specific Christmas gift. Many parents also love this gift. You'll need a photo of each student to make this craft, either a photo of them sitting or standing, or make it a little fun by having students pretend they're stuck in a snowball!
Besides photos, you'll also need a laminator, glitter, paint, and a snowball template. But, it makes a perfect holiday party craft or for Friday afternoon when the kids might be a little too unfocused.
You can also add a variety of fun and creative little writing piece to the craft. You can add something like "if I get caught in a snowball," which is sure to keep the students enjoying and happy because they have the opportunity to be creative.
Closing Thoughts on Christmas Gifts for Parents From Students
I hope this article is very useful! Even though it is not an Amazon gift card, all parents will love to open up the crafts during the holidays! Everything you need to make these can also be easily found at any local craft store or some online stores! Enjoy the opportunity to make one or more crafts with your students!
Which popular handmade Christmas gift for parents from students is your favorite? I'd really like to hear your suggestions! Happy teaching and a fulfilling Christmas holiday!